Here's a silly photo shoot Kurt took of me up in Doe Bay.
See the pointy elf hood? I know the picture's not awesome, but it shows the hood.
See the kangaroo pocket? It's my first. It came out well enough, but next time I'll start it an inch above the end of my waist shaping.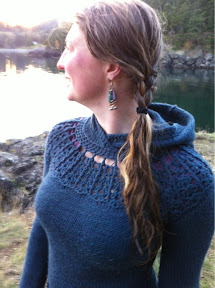 See the crochet detail of the yoke? I love it! The hem, sleeves, and hood are trimmed with several rows of single crochet.
And here are some more pictures just because:
I figured I'd get some photos out at
Doe Bay
since that's where I knit it this past summer at Doe Bay music festival. So fun!! The yarn is Cascade 220 in a lovely heathered green-blue with the odd fleck of purple. So pretty!
Oh, more details... It's top- down, starting with the crocheted yoked, then knit through the body. I used short rows to make semi-set in sleeves. The hood is basically a rectangle with some quick increases down at the neck as I knit it up from the collar.
Prettier than a sweatshirt!
- Posted using BlogPress from my iPhone